We've been servicing the Maryborough area and Fraser Coast region with over 40 years. Below we explore some of the services we offer here at Fluid Industries Plumbing.
---
Plumbing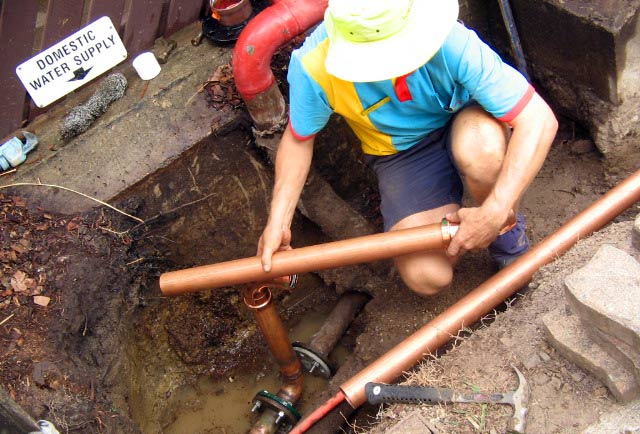 We're Maryborough's top Plumbing Specialists!
Staff at Fluid Industries Plumbing (FIP) have been servicing the Wide Bay & surrounds for almost 40 years. We understand the local requirements and always strive to provide professional service and solutions while solving your problems.
FIP can handle a wide range of plumbing works including:
Domestic, industrial & commercial breakdown and general maintenance –
Small & large kitchen and bathroom renovations –
Roof, gutter and downpipe installation, repairs & replacement –
Sanitary & Stormwater drainage –
Water leaks or bursts –
We offer a 24/7 emergency breakdown service for those times when your plumbing problem needs to be resolved now.
Our focus is strong personal service backed up with decades of expertise.
To get started, contact us today!
---
Drain Cleaning

We currently offer a reliable drain cleaning service within Maryborough and the Fraser Coast.
Fluid Industries Plumbing can help with your sewer blockage problems. Our qualified tradesmen come to you with our mobile mechanical and high pressure water drain cleaning equipment to make sure your blockage is cleared.
With our compliment of drain cleaners we can fix most types of system blockages including general sewer blockages and on-site disposal problems.
Contact us today to get started!
---
Gasfitting

Fluid Industries Plumbing is fully licensed for work on LPG & Natural Gas installations. Our team of qualified tradesmen can complete your job.
We can:
Install/upsize gas piping installations for domestic & commercial services –
Provide leak testing and detection –
Installation of gas appliances including cookers, space heaters & hot water systems
We service the Maryborough / Fraser Coast area, and are Gasfitting Specialists.
Contact us today to get started!
---
Hot Water Systems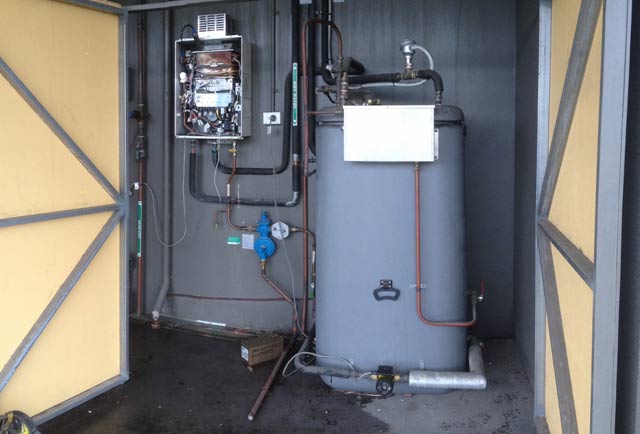 Fluid Industries Plumbing has experience and expertise in a whole range of hot water units & applications; domestic, commercial & industrial.
We've been providing Maryborough and the Fraser Coast emergency response to hot water breakdowns and always use licenced personnel for the job for decades.
Ask us about:
Electric Storage –
Gas Storage –
Gas Instantaneous –
Heat pumps –
Solar Hot Water, Close Coupled & Split System –
Commercial & Industrial manifolds, pumping and hot water applications –
Contact us today to get started!
---
Backflow Prevention & Thermostatic Mixing Valves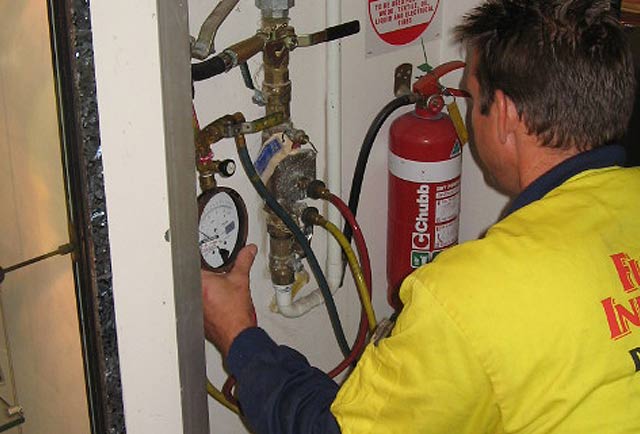 Fluid Industries Plumbing installs, maintains, commissions & certifies Backflow Prevention Devices and Thermostatic Mixing Valves
within Maryborough and throughout the Fraser Coast.
Backflow devices are essential to ensure that the quality of drinking water within the mains is not compromised. They are required to be installed on properties or in applications where contamination is possible and are required to be tested and serviced annually.
Thermostatic Mixing Valves are required in applications where temperature controlled water is essential. Using a specialised wax core, the valves ensure that water can only be supplied at the outlet at the desired temperature, eliminating the risk of scalding or cold shock. TMVs are required to be tested and serviced annually.
We maintain a register of devices and send out annual notices to valve owners to remind them of when our testing is due, taking all the worry away. Think you have a valve and are unsure it is being serviced; contact our friendly staff for more information.
Contact us today to get started!
---
Rainwater Tank De-Sludging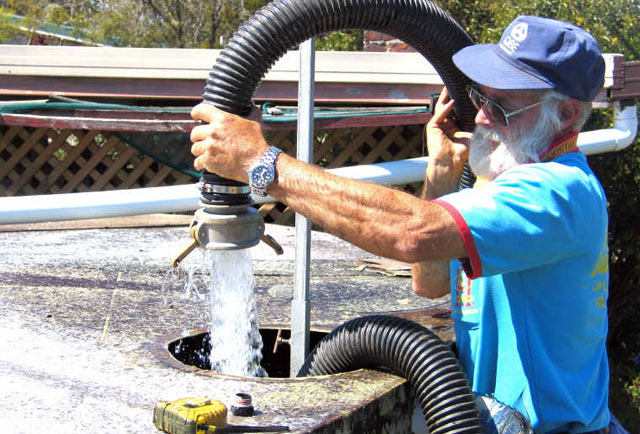 Fluid Industries Plumbing has a fully mobile tank cleaning service operating in Maryborough and throughout the Fraser Coast to ensure your tank water supply stays clean.
Heavy materials and micro-organisms settle into a thick layer of sludge on the bottom of rainwater tanks. With our specialised equipment we can remove this sludge layer from your tank while keeping the fresh water above.
Tank De-Sludging is recommended every 4-5 years to ensure the sludge layer doesn't come up to the outlet pipe.
Contact us today to get started!
---
Concrete Tank Repair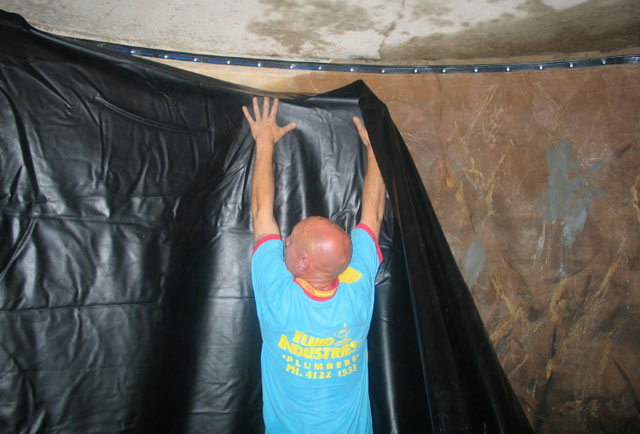 If you live in the Fraser Coast and surrounding , Fluid Industries Plumbing can repair your leaking co
ncrete tank. We have two methods to do so; crystallisation and tank liners.
Crystallisation is all done from the outside of the tank and can usually be done while the tank is full of water. The crack is gouged out then a special cement based, self-healing crystal is hard-pressed into the cavity to mend the crack.
For tanks with too numerous or damaged cracks a tank liner can be installed into the tank. Tank liners utilise the structural integrity of the tank but create a new watertight seal.
The tanks are first de-sludged then the walls are rubbed down to ensure no sharp edges are present. A specialised railing is installed on the tank wall and the liner is hung from this rail. The liners are made from shrink resistant woven polyethylene plastic and a typical install is completed in one day.
Contact us today to get started!
---
Rainwater Tanks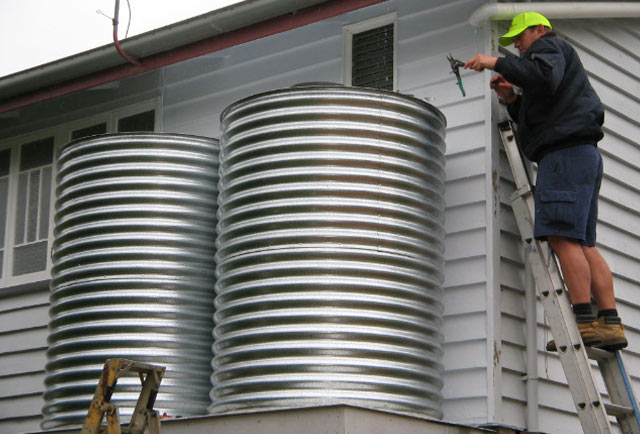 Fluid Industries Plumbing manufactures corrugated tanks right here in Maryborough. We offer a range of standard sizes in round, slimline and slimbelly or we can custom make sizes to suit your needs.
All tanks are made from aquaplate steel and come in either Paperpark or Pale Eucalypt Colorbond Colours. They have a stainless steel lid & bottom and are supplied with strainer, outlet (1" BSP standard) and overflow with mozzie cover.
Contact us today to get started!
---
Garden Beds & Corrugated Curving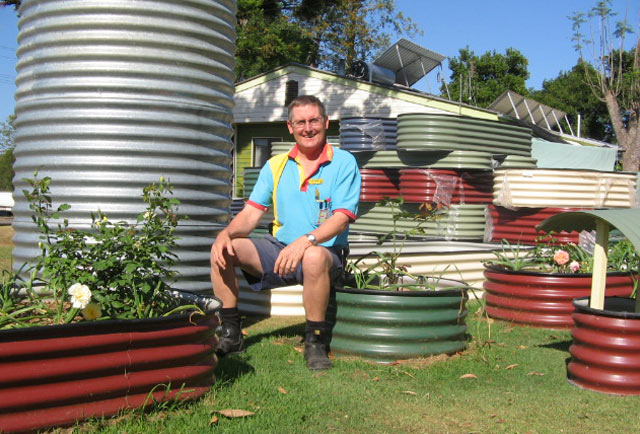 Fluid Industries Plumbing can provide curving for corrugated architectural applications and the manufacture of garden beds.
If you live in Maryborough or somewhere within the Fraser Coast area, our service could be exactly what you need to give your garden the lift it needs!
Contact us today to get started!
---
Sheet Metal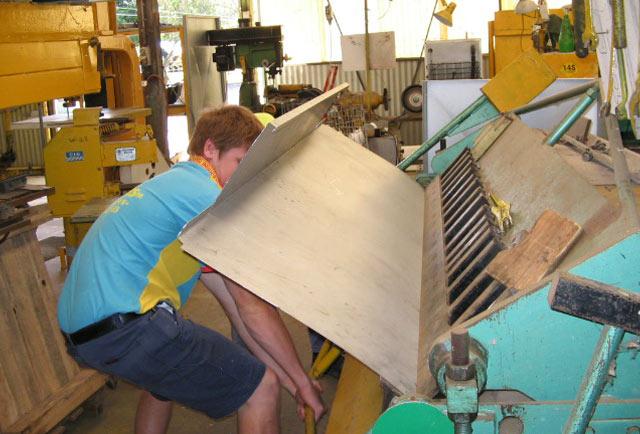 Fluid Industries Plumbing can handle a variety of light metal bending and fabrication as a part of our extensive range of services.
Manufacture of covers, flashings and rainwater products are possible and performed right here in Maryborough, within the Fraser Coast
Contact us today to get started!
---
Heritage Spec Renovations & Products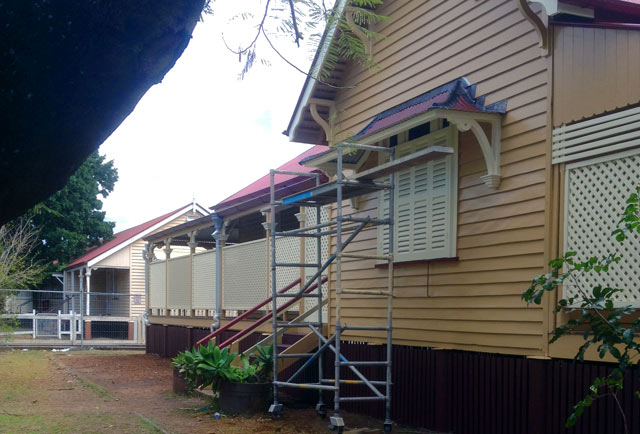 Fluid Industries Plumbing has the workshop and experience to manufacture and install items suitable for heritage guidelines, perfect for our historic region and Maryborough's strong heritage.
The specialised craftsmanship required for these jobs is something Fluid Industry Plumbing prides itself on and is something we've offered for many years to many highly satisfied customers.
Contact us today to get started!
---
Tank Making Tools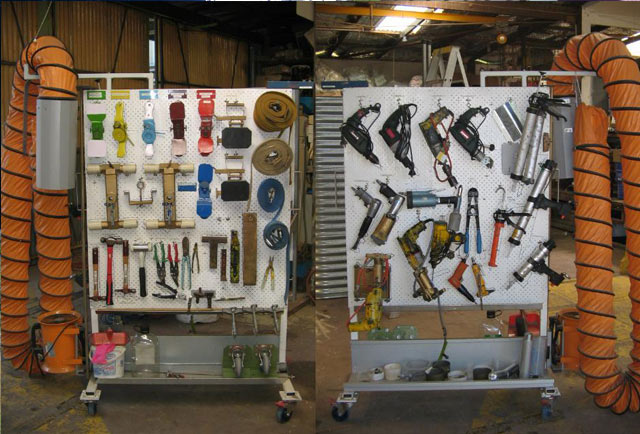 At Fluid Industries Plumbing, we always work to stay ahead of the curve. To do this, over the years we have developed a whole range of tools for the manufacture of corrugated tanks.
While we produce these locally in the Fraser Coast, we have been distributing them throughout Australia and overseas for decades and stand by their efficacy within the industry.
Our system of tank making tools has effectively mechanised what was once a completely hand-made operation. The tools also have other sheet metal working applications outside of tank construction. See the attached brochure or contact us for more information on how these tools can benefit you.
Download Brochure in PDF Format
Contact us today to get started!
---
Tank Business Startup Training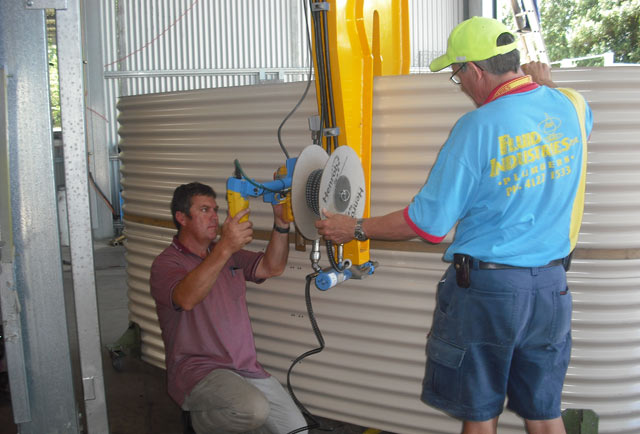 If you have the desire to start a new business or diversify your current one, tank making could be the opportunity for you. In concert with the tank making tools Fluid Industries Plumbing manufactures, we can also provide training to setup & operate a corrugated tank making business.
We recommend you research the market from every angle to determine your niche and all opportunities present in the industry within your area. Several entry levels are catered to with entry costs depending on where you want to come in; whether you want to start with the lot at the top or build from the ground up we can help you.
Contact us today to get started!
---
Hydraulic Design & Construction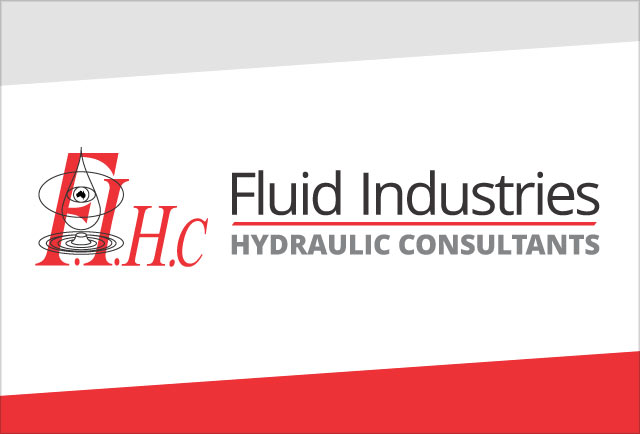 Fluid Industries Plumbing has two qualified hydraulic consultants (plumbing engineers) on staff who are more than ready to help with your design & construct project.
Whether you need a fire service, on-site wastewater disposal or anything in between, we can help with your project. Handling from design philosophy to practical completion & handover our qualified staff are ready to assist with your needs.
After hydraulic design only? See our sister company Fluid Industries Hydraulic Consultants. Visit fihc.com.au and rest easy knowing your project design is in experienced hands.